We imagined it. And made it true.
Our firm has put in place segregation procedures amongst other operational steps during this period to help combat Covid-19. This means that some of us will be working from different locations. This may cause delay in response time and affect face to face meetings. We seek your understanding. Thank you.
The twin pillar of "Building Peace, Building Expertise" are the core focuses the affiliate firms of PracticeForte Advisory wish to show in the way we serve our clients as well as in how we work amongst ourselves as professionals.
For many, the mundane business of running a professional services firm together with seeing to the need for capacity-building for value work and client servicing can be as tricky as the practice itself. Busy professionals having to do all of these may find that thinking can be conflicted and validating business decisions can get to be a lot of what you do. 
PracticeForte Pte Ltd makes the case for outsourcing to us the back-office functions of firms whilst professionals focus on the delivery of service and quality to clients.
PracticeForte Advisory has experienced lawyers in areas, amongst others, of corporate and commercial litigation; matrimonial and family practice; general corporate and commercial matters. In our midst are also expert accountants in areas of tax, forensics and business advisory; forensic investigators and computer forensics for digital investigations. Our latest additions include counsellors, therapists, mediators. The Advisory have affiliates in Belgium, Philippines and Singapore.
OUR FEEDBACK ON LAW REFORMS
We are a group of small professional practices that are:
members of a 'best-friends' network of law practices, accountants, private investigators and counsellors known as PracticeForte Advisory
members of SAL FLIP
The Law Practitioners in this group comprise of lawyers in all categories of seniority ranging from less than 1 PQE to 32 PQE. We also have amongst us, Parenting Coordinators, Child Representatives, Family Mediators, Financial Counsellors, Social Workers and Family Counsellors and Therapists.
We meet regularly to provide proposals to the government as well as non-governmental organisations for changes in the law. 
In this episode, Chloe Chua interviews registered Counselling Psychologist Sylvia Tan on mental health in Singapore. Listen in as Sylvia shares her insight on how a psychologist could benefit families undergoing divorce, especially through initiatives like PracticeForte Restructure (Pre-Writ Divorce), Therapeutic Justice at the Singapore Family Justice Courts, confidentiality between patients and mental health professionals, and many other pertinent topics.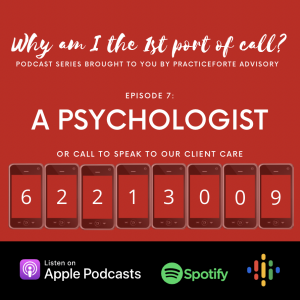 2015 Copyright PracticeForte Pte Ltd [UEN: 201530778N]. Incorporated with limited liability. All rights reserved.
Terms of Use    |    Disclaimer    |   Privacy Policy      
1 North Bridge Road, #08-08 Found8, High Street Centre, Singapore 179094.
Telephone +65 221 3009