Adopting Work-From-Home For Your Company? These Singapore Government Grants Can Help
Article by PracticeForte Advisory Affiliate Shirley Tay
We're exactly two weeks away from the end of Singapore's Circuit Breaker [CB] period. While we wait to see what semblance of social life we may regain come 2 June 2020, I'm certain the government wants companies to climb back into the business cycle so we can recover from the economic shock that the COVID-19 pandemic has catalyzed.
Meanwhile, working from home [WFH] looks to be a big part of our new normal, and to that end, most businesses should be able to tap on two government grants to implement such arrangements. I've shared the same with my clients, most if not all of whom were unaware of these initiatives. To boot, these are two of the simplest grant applications I've come across; though documentation is still key and there's still some work involved, it certainly isn't something you need to hire a consultant to do for you (if you still do, though, connect with me and I'll be happy to guide you).
Work-Life Grant [WLG]
WLG aims to incentivise companies to sustain the use of flexible work arrangements (FWAs) for all employees. This grant was already in place before the pandemic. It was designed for FWA that include flexi-load, flexi-place and flexi-time. With COVID-19, the government has enhanced the grant to encourage daily adoption of WFH in line with their push for people to stay at home. The grant also serves to help alleviate costs for companies to adopt FWA (e.g. hardware and software purchase).
My recommendation below is geared towards the Enhanced WLG which was introduced specifically to combat COVID 19 and has a limited life span.
In broad terms, the requirements for this grant are as follows:-
Support only Singaporean and PR staff who are long-term employees or on contract for at least 12 months
Grant amount: $2,000/staff per year/period
Staff must either (i) work-from-home and/or (ii) stagger hours
Once the grant offer letter is given, companies have 4 months to adopt & complete the FWA arrangement.
The table below is a summary of the features of the grant before and after COVID-19.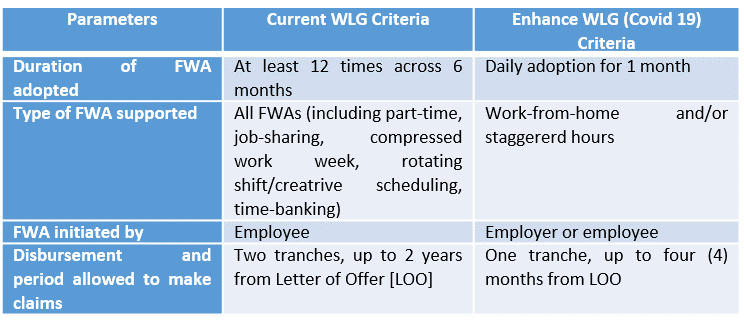 E.g. If a company has 3 staff, each staff can rotate to work-from-home during the month of June, July and August, or stagger their working hours in the office for a month-long period. Under the grant, the company may submit a claim of 3 x $2,000.
Some of the deliverables to be able to claim the grant include: (i) show proof of adoption of the Tripartite Standards on FWAs, (ii) submit a write up of the FWA policy (iii) documentation proof that there is an agreement between employers and employees (with acceptance from employees) for FWA adopted. I believe these deliverables serves to educate employers and employees on the available standards and push for us to adopt the same.
The application for this grant is already opened ahead of the expiry of CB. The process starts simply with the submission of an application form along with the ACRA business profile. You can find more information on their website: https://www.mom.gov.sg/employment-practices/good-work-practices/work-life-grant
Productivity Solutions Grant (PSG)
PSG is another grant that has been enhanced during this pandemic to encourage businesses to digitalise and upgrade their productivity. The funding support has increased to 80% from 1 April 2020 to 31 December 2020.
The scope of generic solutions has also been expanded to help companies implement COVID-19 business continuity measures:
Online collaboration tools
Virtual meeting and telephony tools
Queue management systems
Temperature screening solutions
For businesses with client/customer-fronting operations, support for queue management and temperature screening should be a welcome.
One point to note: the grant does not support pure hardware purchases (e.g. laptops). The equipment must be procured with technology tools such as those that boost online collaboration (cloud storage, file sharing, video conferencing, etc.) like Microsoft Office 365 Business or Google G Suite. Although I have not personally asked for quotes from the listed vendors, a client who did mentioned that the charges are fairly affordable and reasonable.
You may visit the Enterprise Singapore website for specific companies offering packages for this grant:
https://www.enterprisesg.gov.sg/financial-assistance/grants/for-local-companies/productivity-solutions-grant
Disclaimer:
Please note that the topics of discussion on this website are prepared for the purposes of general information only.  They do not constitute legal advice. No information presented on this website, or communicated to our through the website is intended to create a lawyer-client relationship.  Therefore you are strongly encouraged to seek legal counsel for appropriate advise,
2015 Copyright PracticeForte Pte Ltd [UEN: 201530778N]. Incorporated with limited liability. All rights reserved.
Terms of Use    |    Disclaimer    |   Privacy Policy      
1 North Bridge Road, #08-08 Found8, High Street Centre, Singapore 179094.
Telephone +65 221 3009