SIrilak (SIMI) SINGHSACHTHEP
PracticeForte Advisory
Affiliate Member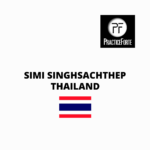 Sirilak (Simi) Singhsachthep is the next generation lawyer specializing in the legal aspects of registering and operating businesses in Thailand.  She is a licensed notarial services attorney as certified by the Lawyers Council of Thailand. Simi holds a Master Degree in International Business Law from England. 
Simi's Professional Focus Areas are Corporate and Business registrations and licenses, Foreign Business Licenses, Contracts, Thailand Immigration, Family Mediation and Labor Disputes and Compliance in Thailand.
MEDIATOR
Co-mediated the first family mediation case, a Hague Convention case at the Thailand Arbitration Center on 14th March, 2020.
OTHERS
Attended the workshop "Communication Skills for Negotiation and Mediation' at the THAC, 20th & 21st October, 2020

Attended the NYU-THAC "Introduction to International Arbitration Course", June, 2019.


SPEAKER AT:
International Family Mediation with THAC "Getting the Work, Doing the Work presented by PracticeForte Advisory Affiliates in partnership with THAC, 29th January 2021.

"Going Global & Staying Local", Yes we Can!" presented by PracticeForte Advisory Affiliates, 2nd September, 2020.
Please call our client care specialist Sandra Yong at +65 6221 3009 if you have any questions.
2015 Copyright PracticeForte Pte Ltd [UEN: 201530778N]. Incorporated with limited liability. All rights reserved.
Terms of Use    |    Disclaimer    |   Privacy Policy      
1 North Bridge Road, #08-08 Found8, High Street Centre, Singapore 179094.
Telephone +65 221 3009